WINNERS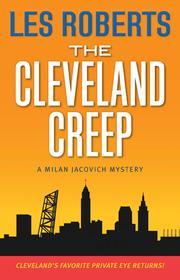 In June of 2009, WPPL hosted an evening with mystery writer Les Roberts, author of the very popular Milan Jacovich series set in Cleveland. In conjunction with his visit, a raffle was held by the Friends of Westlake Porter Public Library. The winner of the raffle would have his/her name included as a character in his next book. Roberts' 15th Milan Jacovich book, The Cleveland Creep, was published this month, and, true to his word, he included our contest winner. The winner had chosen the character name Carol Shepard and it won't take you long to find her name in the book. It was exciting for me to not only have a new Jacovich book to read, but also to see someone from WPPL included in the story. Congratulations to our winner!
The first of the mystery book awards for 2011 have been handed out. They are awarded this year for books written in 2010.
Agatha Awards: given in honor of Agatha Christie by Malice Domestic.
Best Novel: Bury Your Dead by Louise Penny
Best First Novel: The Long Quiche Goodbye by Avery Aames
Edgar Awards: given in honor of Edgar Allan Poe by the Mystery Writers of Americ.
Grand Master: Sara Paretsky
Best Mystery Novel: The Lock Artist by Steve Hamilton
Best First Novel: Rogue Island by Bruce DeSilva
Left Coast Crime Awards: given at the annual Left Coast Crime Convention sponsored by mystery fans, for mystery fans.
Bruce Alexander Memorial Award given for the best historical mystery - The Mapping of Love and Death by Jacqueline Winspear.
Hillerman Sky Award given for the mystery that best captures the landscape of the Southwest - The Spider's Web by Margaret Coel.
Watson Award given to the mystery novel with the best sidekick - Junkyard Dogs by Craig Johnson.
Nero Awards: given by The Wolfe Pack for the best American mystery written in the tradition of Rex Stout's Nero Wolfe stories.
Faces of the Gone by Brad Parks.
Here are some forthcoming releases to watch for on the shelves of WPPL:
Betrayal of Justice by J.A. Jance (J.P. Beaumont) - July
Breaking Silence by Linda Castillo (Kate Burkholder - Ohio Amish Country) - June
Camouflage by Bill Pronzini (Nameless Detective) - June
Hell is Empty by Craig Johnson (Sheriff Walt Longmire) - June
Murder on Sister's Row by Victoria Thompson (Sarah Brandt - Gaslight Mystery series) - June